Whether it's a sophisticated loft space or a more conventional office, space for movers & shakers and creatives, light industrial or laboratory space … the multi-functional space in RUBIQ opens up all types of individual layout possibilities for almost every form of working and collaboration.
FIBRE OPTIC NETWORK CONNECTIONS
COOLING BY CEILING-MOUNTED SAILS
PASSENGER LIFTS TO ALL FLOORS FROM THE UNDERGROUND CAR PARK
SERVICE LIFTS
ROOF TERRACE
SHOWERS FOR STAFF CYCLING TO WORK
OPTIMAL INTERIOR LIGHTING PROVIDED BY LARGE WINDOWS
VARIABLE DIVISIBILITY OF SPACE TO SUIT OCCUPIER REQUIREMENTS
The rental units in RUBIQ can be combined both vertically and horizontally. The combination of perimeter service road, three main entrances, three secondary stairwells, service lifts and an HGV ramp allows for the optimal configuration of space and processes for the individual workflow of office and commercial occupiers.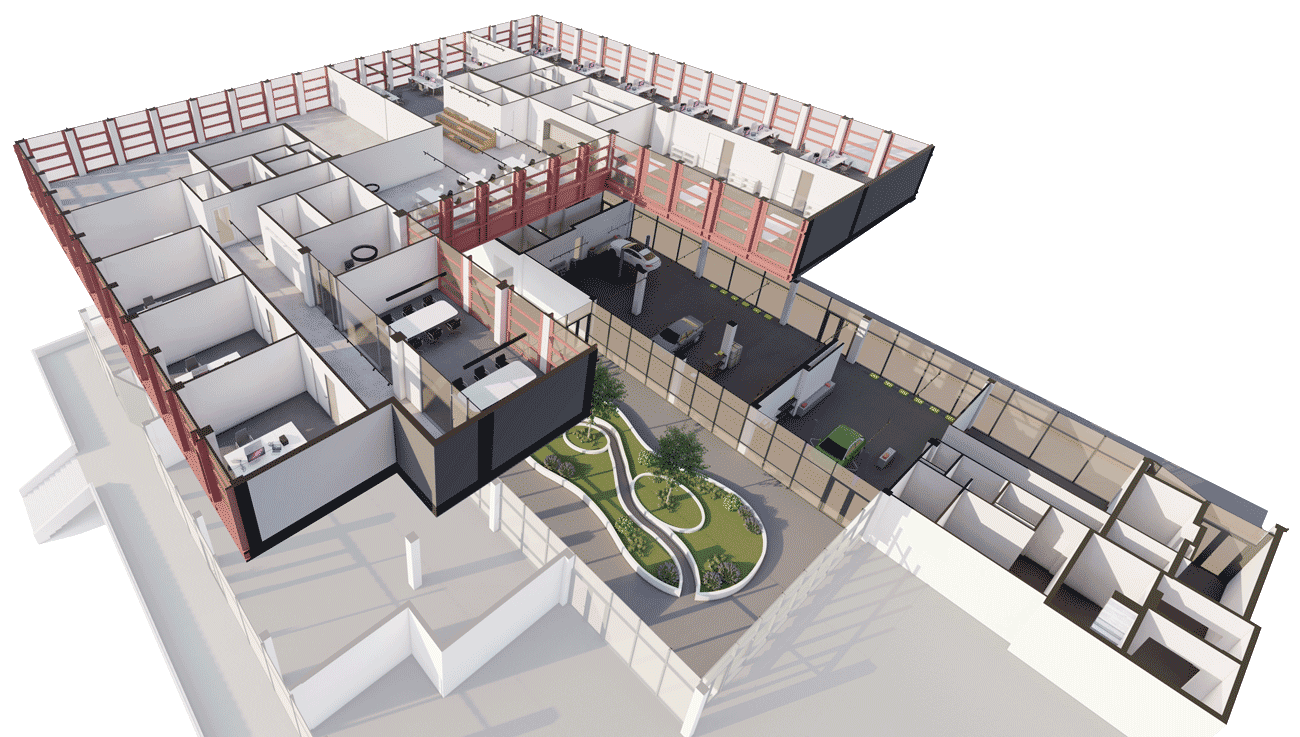 RUBIQ'S facade with a high proportion of window space in combination with the two large atriums ensures ideal lighting in the workspaces. There is an efficient column grid and optimal building depths, allowing for flexible floor layout configurations with plenty of latitude in terms of combination and design.
HGV access to RUBIQ is from Valentin-Linhof-Strasse. Vehicles weighing up to 40 t can use the northern service road or the eastern loading ramp for loading and unloading. There is ramp access into the ground-floor rental units for vehicles weighing up to 5 t. There are around 156 car parking spaces in the underground car park and 45 on-site parking spaces. Pedestrian access to the building is via three stairwells from Wamslerstrasse.